Originally posted by tgruitt



Jim C,


I have just been looking on http://www.cix.co.uk/~hjones/plusplus/index.htm
That's a rather out of date page: I had a disagreement with the ISP and lost ability to update it. This one is a bit more recent...
http://www.cherubpres.f9.co.uk/plusplus/
What's it like? Needs at least one more prototype. I enjoy sailing it, and its entertaining, but has its problems. The most irritating one is that its fast enough to sail out of the front of a gust, but not fast enough to sail into the back of one. Consequently in gusty inland conditions (just about every time I sail it) you spend all your time sailing downwind in the lulls. So you go tearing past a Laser, out the front of the gust and stop. Meanwhile said Laser is still in the gust and sailing in twice as much wind. Ho Hum.
Another time :- Well the rig needs some work, the taper on the mast is wrong I think, and it doesn't have the gust response I think it should. I'd also make the mast taller and foot shorter because with the slab in the rig has a pathetically slow aspect ratio and it really suffers. Mast could go forward a bit, have to suffer worse nose dibing to mnake tacking easier, some subtle chamnges to hull shape, bit narrower on the chines, a flat along the centreline from a bit in front of the mast back, some other stuff like that.
Sound like a lot of criticism and a lot of problems, well yes, but to put in in perspective there are very few mass production boats I've sailed much that I wouldn't be able to put a similar list together for - even the 29er, which I think is fundamentally the best bit of production dinghy design for a very long time would gather some suggestions...
Of course the biggest problem it suffers from is that the difference between a fast boat and a slow boat in a given set of dimensions is usually about the equivalent of 40 points of PY, but the difference between a fast helm and a slow one is about 200, and as singlehander helms go I'm a pretty competent Cherub crew... At the moment my club gives me an absurdly generous handicap so I shouldn't complain I suppose!
It lives at Island Barn, which is IMHO the club in the South London area, both friendly and competitive. At times in our winter series the poor race officer is faced with two strange singlehanders with sail no 001, the other being Stuart Gurney's
Heatwave
, which benefits from a rather more talnted helmsman!
Oh yes, speaking of the beast you may enjoy this. It is of course a photo hacking job, knocked up when there were some floods near home, but I did get a serious request for it to be used in a bona fide printed publication by some naive environmentalist or something who thought it was genuine!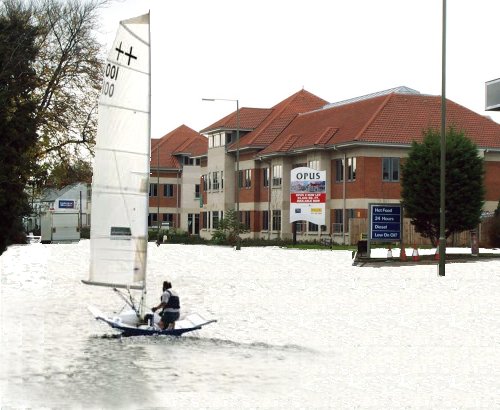 Edited by JimC